Presented by:

&
Registration is set to open April 1st, 2021
Why choose Aggie Golf Camp?
As a parent you know making the right choices for your children now, can make a lifetime of difference later. Aggie Golf Camp is one of those experiences that delivers so much more for your son or daughter than just quality golf instruction.

Your child will be exposed to the positive culture and values of one of America's most unique and respected public universities. Leaders are made at Texas A&M and that culture of confidence and self-reliance is reflected in the instruction they will receive at Aggie Golf Camp. Your child's golf skills will markedly advance through the instruction they receive. But more importantly, the same confidence and poise they will gain in their golf game will also serve them the rest of their lives.
The Aggie Golf Camp is a great opportunity for young golfers to spend several days with outstanding collegiate golf coaches. The time spent with the coaches and players will expose them to the world of collegiate golf. Whether the camper is beginner, intermediate, or advanced, the camp promises to serve as a means for young players to be introduced to some of Texas' finest coaches. Many of today's great college golfers attended golf camps in the summer to be introduced to the college game. Furthermore, the campers will build friendships with other golfers so they can share the game of golf forever.

There is simply no better youth golf camp in America today.
Who can attend?
Boys and Girls ages 9-18. The camp is open to any and all entrants (limited only by number, age, grade level and/or gender).
Camp Size Limits
Camp is limited to 75 campers per session.
Student/Instructor Ratio
The Aggie Golf School utilizes a student to instructor ratio of 4 to 1. You will not find a camp with a better ratio. This guarantees your son or daughter the highest amount of time in one on one instruction.
Quality of Instruction
Aggie Golf School Instructors are a proven and effective teaching combination of Men's and Women's Golf Coaches, Other Top Collegiate Coaches, Top Texas HS Coaches and PGA professionals. In addition, the campers will also be working with current Texas A&M Men's and Women's golf team members.
Famous Former Aggie Golfers
Texas A&M University has produced 39 Men's and Women's All Americans and 18 PGA, LPGA, European, Nationwide, and Champions Tour players.
Miller Barber, 24 PGA Tour wins and 23 Champions Tour wins
Bobby Nichols, 11 PGA Tour wins and 1 Champions Tour win
Henry Ransom, 5 PGA Tour wins
Jeff Maggert, 3 PGA Tour wins
Ryan Palmer 2 PGA Tour wins
Martin Piller 2 PGA Tour wins
David Ogrin 1 PGA Tour win
Bobby Gates 1 PGA Tour win
Shane Bertsch
Danny Briggs
Shirley Furlong LPGA Tour Winner
Jamie Hullet LPGA Tour
Kim Bauer LPGA Tour
Anna Becker European Tour
Isabella Rosberg European Tour
Cameron Champ 1 PGA Tour Win
Adria Arnaus European Tour Member
Andrea Pavan 1 European Tour Win
Nacho Elvira European Tour Member
Bronson Burgoon PGA Tour
Conrad Shindler PGA Tour
Equipment/Club Fitting
One of the great benefits of Aggie Golf Camp is the expert advice the campers receive in how to select the right clubs for their individualized game. Since young golfers are still growing, it is important that they learn how to select, size and adjust clubs to match their game as their skills advance and their physical size changes. Aggie Golf School will provide a solid foundation of how to make these choices and leave them with a competitive advantage on the course.
Staff
Head Coaches
Brian Kortan - Men's Head Coach

8 years as Texas A&M Assistant Coach
11 years Collegiate Coaching
9 All-Americans
9 Tournament Wins

Mary Michael Witherell - Men's Assistant Coach

6 years Coaching Experience
7 All-Americans
21 Team Tournament Wins
Won the Big 12 Championiship in 2012 for Texas A&M
Conway High School Hall of Fame
Instructors
Aggie Golf Camp Instructors are a proven and effective teaching combination of Men's and Women's Golf Coaches. Campers will receive instruction, mentoring, and advice from college coaches, high school coaches, and PGA professionals. Head Coaches and Assistant Coaches from other top programs make up the staff. Furthermore, players from the current Aggie Golf Teams assist in instruction and supervision as camp counselors.
Counselors
Camp counselors, made up of Aggie Golf Team members, will assist in supervising and helping your child during their entire stay. Counselors are screened and chosen for their skill with youth, enthusiasm, dedication, intelligence and ability to serve as a positive roll model to the campers under their care. Counselors are an important part of the overall camp experience and great care is taken in their selection.
Housing & Dining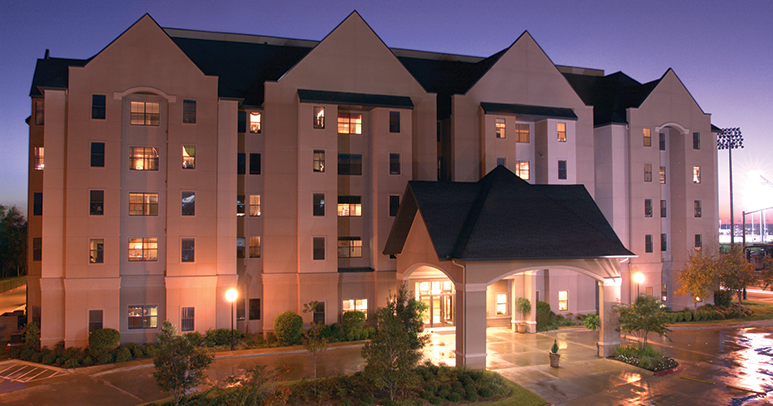 Callaway House
Get ready for an extraordinary camp experience at The Callaway House. The furnished, modern living spaces feature hardwood-style flooring, extra-long beds, and fully equipped kitchenettes with granite countertops. The amenities for camp include a swimming pool, movie theatre, and a modern dining hall.
Dorm website: https://www.americancampus.com/student-apartments/tx/college-station/the-callaway-house
Dining
Meals throughout the week will be provided from great Bryan/College Station food caterers. The Callaway House will provide meals for our campers as well as other private catering vendors.
Facilities
A&M Golf Team Club House -
The Wahlberg Learning Center
The Wahlberg Learning Center is the state-of-the-art home of the Men's and Women's Aggie Golf Teams. The facility is located on the Traditions Country Club course in a dedicated area of the course that has its own practice putting greens and driving ranges. Inside, the elegant facility has computerized golf swing analysis, club room, and locker rooms overlooking the gently sloping fairways of Traditions Country Club. Students will enjoy full access to the newly-renovated facility which includes a game area with pool and ping pong. The new facility is the envy of golf programs everywhere and serves as a great headquarters for the Aggie Golf School. Your child will love the welcoming feel of the facilities.
Traditions Golf Club
Designed by Jack Nicklaus, Traditions Country Club is built on heavily wooded terrain with creeks and many elevation changes. Surrounded by spectacular homes and nature and benefiting from being a new course, Traditions will provide your camper with a visually stimulating and skill challenging course for their entire session.